Travel Book: Getting Ready for the Summer
I've been looking through The Travel Book: A Journey Through Every Country In The World. It's an attractive book, with nice photos, and a little information about each locale, many of which are quite exotic to me.
I am particularly drawn to the pages on Greece and Eastern Europe. In July, I'll be going on a Royal Caribbean cruise to the Turkey & the Greek Isles with my mom, departing out of Venice. I haven't been to any of the Greek islands, but I have been to the mainland, specifically the city of Athens and the town of Delphi. I am looking forward to seeing a bit more of the Mediterranean coast and visiting Santorini. In case you din't know, I'm actually quite an island girl. I was born on an island, and islands have a special place in my heart.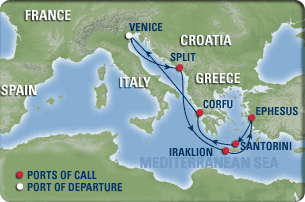 We depart July 11, and we are going to try to go over a bit early to have a little extra time on terra firma. I've not been to Eastern Europe, so we may try that. I really want to see Budapest, which everyone says is so gorgeous.
Labels: travel